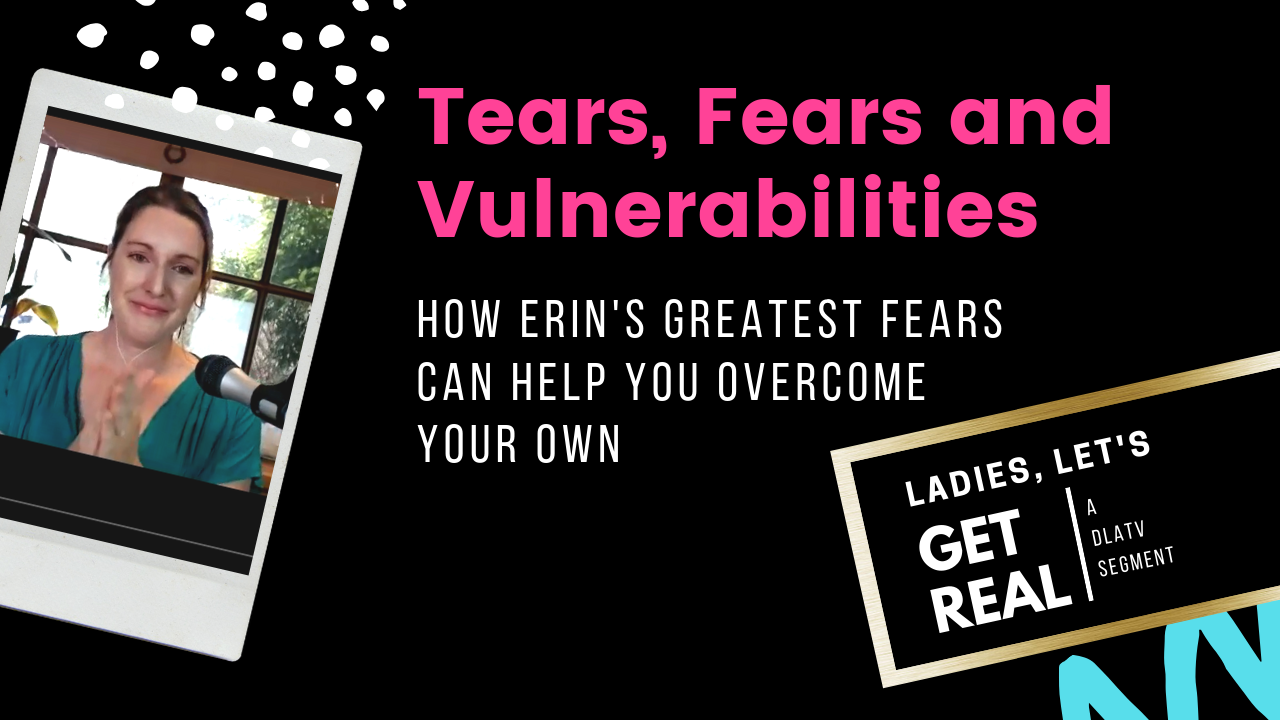 Ever get that feeling that you're spinning your wheels as you look at your to-do list and realise it's more like a thesis? You're adding more things to do but you're not ticking off what's already on the list quickly enough, so the list is getting longer and longer. So, when it feels like there isn't enough time in the day to do what you need to do and you're not meeting the high expectations you've placed on yourself, what do you say to yourself? Do you come from a loving place where you pat yourself on the back for at least taking a step even if it's a small one? Or are you more likely to criticise yourself – affirming that you're not good enough to do anything and that by not meeting those expectations, you're failing?
This episode of the segment, Ladies Let's Get Real, I share my closest fears when it comes to not fulfilling the goals I have for myself, particularly as a Mother. It wasn't an easy one to film – in fact, at one point, I let out a few tears, simply because I'm so afraid of what 'not being able to fulfill my goals in time' actually symbolises.
But this is the beauty of talking it out. With my special guest, Samantha Ember by my side, we were able to move through the fear and redefine what your worst fears can ACTUALLY do for you. It's a fresh new way of looking at fears and vulnerabilities.
So, if your to-do list is pretty hectic and you're feeling guilty and fearful that you're not doing enough (even though you're working your arse off!), AND you really want a productive way of moving through these times with ease instead of fear, then this episode is for you. You're going to learn:
* What my own personal fears are when it comes to not being able to fulfill my goals within an expected time frame and how I manage them, so they don't stop me from getting to where I want to be
* What Samantha says to herself at times when she's not meeting her goals as quickly as she'd like
* How you can identify where your worst fears came from
* How to identify your ancestral karma and ensure that you won't be repeating it
* The 2 vital steps to help you heal your past in a way that brings you empowerment
Don't delay watching this episode because you're too busy – invest some time to tune in; you'll be glad you did.
And once you're done watching, head on over to: https://www.erinfurner.com/tears-fears-and-vulnerabilities where Erin will answer follow up questions relating to this episode.
If you enjoyed this episode, simply subscribe to our channel so you can receive more inspirational tools, tips, tricks and ah-ha moments that'll help you live your dream life.
You can also become an Enlightened Luminary (E-Luminary) by signing up to receive our regular newsletter which contains spiritually inspired content and first dibs on upcoming events, courses and giveaways. All this delicious goodness can be found at https://www.erinfurner.com to sign up.
Thanks for watching!
FOLLOW ERIN AT:
Facebook: http://www.Facebook.com/erin.furner
Twitter: http://www.twitter.com/erinfurner
Instagram: http://www.instagram.com/erinfurner
Erin's YouTube channel: https://www.youtube.com/channel/UC8AImPMxPqg_wyl09nSCcew?